​Roi Wassabi is one of the main protagonist of Wassabi Productions . 
Roi was Born in the Philippines in 1991 but when he was 4 him and his family moved to America were his dad got a new job . In middle school Roi was a Upbeat , Shy , Calm , Sensitive kid . As a adult Roi was a Silly and Crazy type . His girlfriends are Alex and Annabel (former). He recently left Wassabi Productions to focus on his gaming channel Guava Juice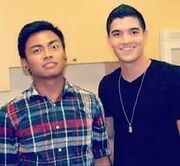 Ad blocker interference detected!
Wikia is a free-to-use site that makes money from advertising. We have a modified experience for viewers using ad blockers

Wikia is not accessible if you've made further modifications. Remove the custom ad blocker rule(s) and the page will load as expected.